This article will explain the steps to create annotations for aerial scouting through to viewing the results of aerial scouting from the project view.
Aerial scouting
1. From the project view tap the annotation icon.
2. An annotation can be created by tapping the + besides ANNOTATIONS on the left side menu.
3. Click Add.
4. The annotation menu will open on the right side.
5. A pop up will prompt you to name and add a description to your annotation point.
6. (Optional) Tap the camera icon to add a photo taken by your tablet camera.  Images taken from the aerial scouting process will appear here later.
7. (Optional) Tap the + beside Attachments to add additional information.
8. Use the Scouting Point toggle to convert the annotation to an aerial scouting point.  This will be used as an aerial scouting way point on the flight path.
9. Repeat steps 3 to 8 to create multiple scouting points.
10. Once you have your annotations, return to the project view and tap the drone icon to proceed to flight planning steps.
11. Tap Aerial Scouting Path.
12. Select your source layer, for example NDVI or digital surface model, the options available are listed on the right side menu.
13. Select the annotations you want to use in the aerial scouting flight mission.
14. Tap APPLY.
15. Proceed to preflight checks.
16. Once all checks are complete, proceed to fly the drone by tapping START.
17. The flight will begin and the drone will take-off and fly to the initial way point selected on the flight path.  A view of the front-facing Parrot Bluegrass camera will appear in the bottom left corner of the screen.  This can be enlarged and reduced as necessary.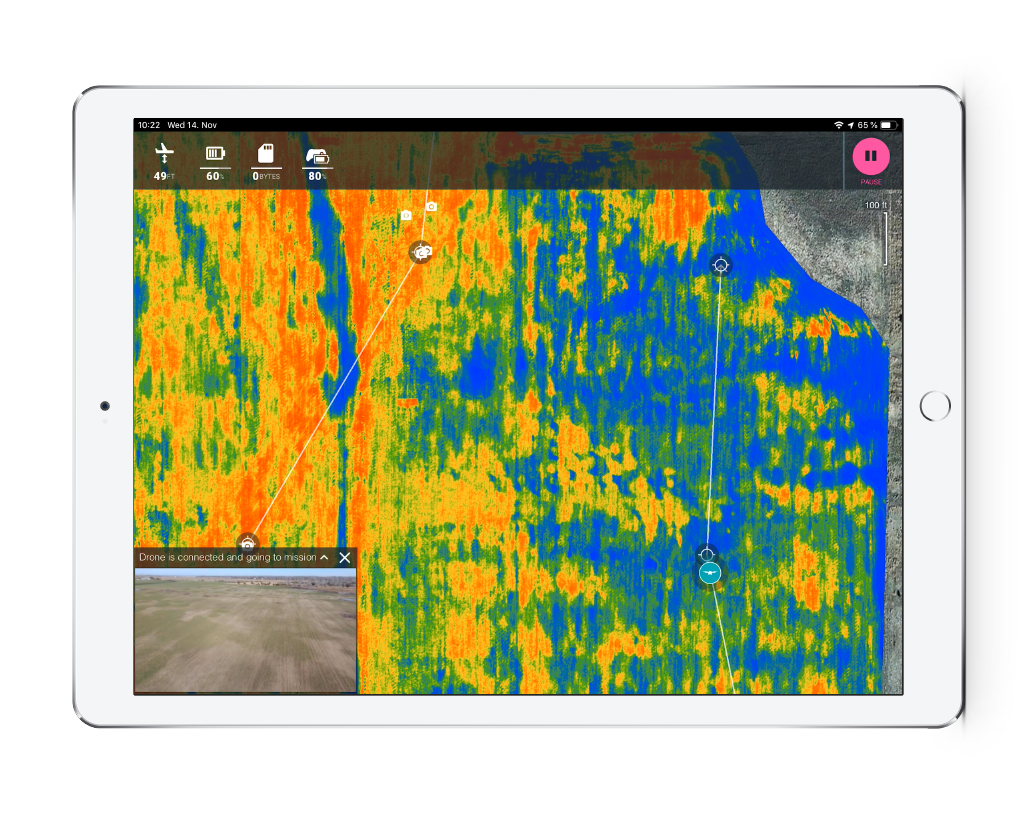 18. Once the drone arrives at the first way point you can either take manual control or remain in semi-automatic mode.  The front facing RGB camera is used for taking photos and video.
Note: At a way point you can tap the photo icon to take a photo, tap Next to proceed to the next way point, or tap the home button to return the drone to the initial take-off location.
19. After capturing the required data at a way point, tap Next to send the drone automatically to the next way point.
20. After completing the flight path and capturing the desired data, proceed to finish the mission by tapping Go Home icon.  The drone will proceed to the start location and land.
21. The mission complete screen will appear with details of images captured.  The download will start automatically to send these images from drone to tablet.
22. After the download is complete, tap CONTINUE to proceed.
23. Images taken at a way point will be associated with the respective annotation point and available to view from the project view.